Introduction
"I think it's because the way that people treat accessibility is often the way that they treat disabled people. And so, when they treat access as a burden, they're treating disabled people as a burden. And when they treat access as a source of joy and beauty, then they start to understand… the joy and the beauty that's in our communities."
                  Finnegan Shannon, multidisciplinary artist [1]
Table of Contents
Accessibility Excellence Vision (Why is Accessibility Important?)
Accessibility Excellence Core Ideas
What is the Accessibility Excellence Toolkit and how does it work?
---
Vision and Framework
Accessibility Excellence Vision (Why is Accessibility Important?)
Access needs are universal.[2] A truly accessible museum requires an organization-wide commitment; accessibility should be considered in all aspects of museum operations.[3] We aim to cultivate attitudes, behaviors, and procedures that promote equity and diversity and that foster inclusion for visitors, staff, and volunteers.[4]
Accessibility Excellence Core Ideas
Change is inevitable and good things come out of it. Museums must embrace an ever-changing world. True accessibility is a journey, not a goal, and we applaud organizations for taking the first steps to change.
Equity of use and equity of voice make a museum welcoming. Universal design is our goal: Disability-specific access benefits everyone and is relevant to both staff and visitors. We accept the social model of disability, in which society and the environment are the cause of barriers for people with disabilities. Our job is to help museums remove barriers.
Accessible museums include and give additional support to marginalized groups by elevating their involvement.[5] We aim to welcome everyone along the continuum of human ability and experience and make space for the characteristics that each person brings.[6] Inclusion requires involvement with marginalized communities at every level. We want to encourage representation and meaningful engagement internally in staff and externally in our visitors. We want more people to see themselves not only in a museum's story and collection; but also in multiple levels of decision-making within the organization.
Accessible museums are proactive rather than reactive in serving their audiences. Meeting the standards of the Americans with Disabilities Act (ADA) is basic, but we're pushing for more. We're striving for inclusive design. We want to challenge the systems that create and reinforce barriers to access. We want to be part of a broader solution. In the words of disability rights activist Justin Dart, "ADA is only the beginning. It is not a solution. Rather, it is an essential foundation on which solutions will be constructed." [7]
Our toolkit supports DEIA work. Disability often intersects with other identities such as race, ethnicity, gender identity, sexual orientation, and socioeconomic status. Disabilities are not always visible or constant. This self-assessment focuses on accessibility as a stepping stone for broader inclusion. Teams and skills that you build during this self-assessment will help you meet other DEIA goals.
return to top
---
Implementation Guide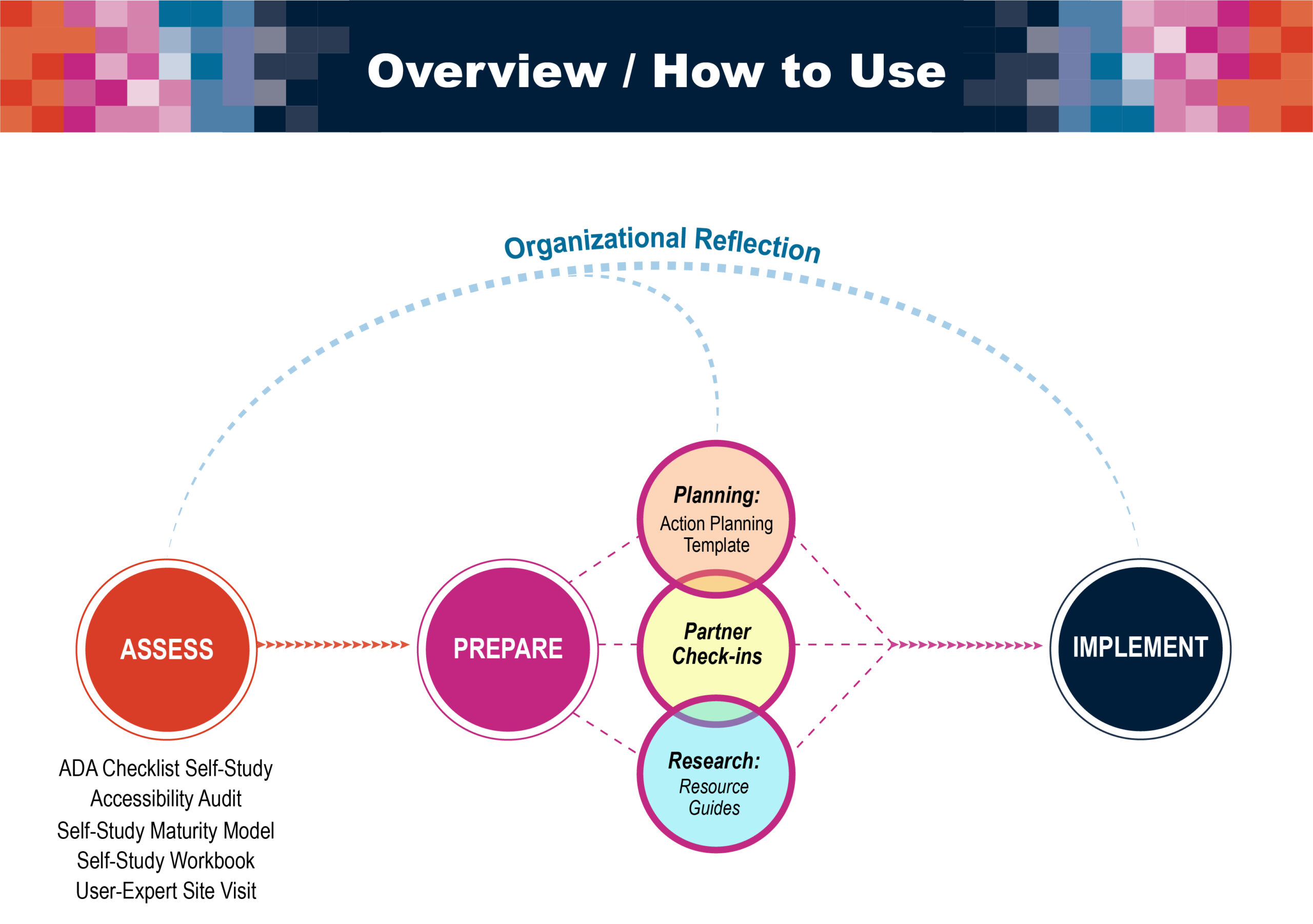 This graphic illustrates the relationship between components of the Accessibility Excellence Toolkit.

What is the Accessibility Excellence Toolkit and How Does it Work?
The toolkit is designed to help organizations create lasting organizational change to better serve their communities and visitors. It includes resources drawn from inside and outside the museum field. DEIA work is an ongoing commitment and can be as challenging as it is rewarding. You are not alone. Using the toolkit, organizations can:
learn about DEIA as it relates to museums and nonprofits
draw on the experience and expertise of others working for more inclusive and equitable organizations
reflect on their organizational culture and identify potential partners for this work
assess where they currently are in relation to DEIA
set goals for the areas they want to sustain, improve, or change
create action plans to achieve their goals
Although each section of the toolkit can be used separately, they are best used together as part of an ongoing process. The development of the toolkit involved field-testing and evaluation. Based on that work, we suggest the following approach:
Getting Started

Build your self-study team and use this Implementation Guide to prepare everyone for the work ahead.
Explore DEIA efforts in the museum and nonprofit world if you're not already familiar with them.
Reflect on your organizational culture and history in the Organizational Reflection Guide.
Familiarize yourself with the Accessibility Excellence website and the Resource Guides.
Accessibility Audit and ADA Checklist
Use our Accessibility Audit Guide to help plan this site visit. Inviting an accessibility expert to visit your site for an initial review can be a good way to start your journey. 
If you are unable to afford a full site audit, use the ADA Checklist for Existing Facilities from the  New England ADA Center as a starting point for self-study.
Self-Study Maturity Models
Familiarize your team with the Self-Study Maturity Models by reading through all the guiding questions first, without trying to answer them.
Read the guiding questions again, this time selecting the statements that best fit your organization. This can be done individually or as a group.
Use your selected answers to find your organization's place on the Emerging/Basic/Good/Better spectrum.
Reflect on how your organization currently handles change, in the Organizational Reflection Guide, before you move on to the workbook.
Self-Study Workbook
Use the Self-Study Workbook to explore current museum and nonprofit DEIA standards.
Make notes about the work you're already doing related to the guiding questions in the maturity model.
Identify strengths you can build on and areas that need improvement.
Reflect on change as it relates to your organization's future in the Organizational Reflection Guide. Where would you like to see the organization in five years? How does your organization plan for change and sustainability?
User-Expert Site Visit
Use the User-Expert Site Visit workbook to explore current museum and nonprofit DEIA standards.
The aim of this site visit is to bring in community (local) user-experts to give their perspectives on the site and any changes you've made since the site visit.
The main goal for this visit should be to better understand how visitors with disabilities actually experience your site. Where the accessibility audit focused on answering the question "Is our site accessible?" this visit will answer the question "Are our visitor experiences effective

for people with disabilities?"
Action Planning
Use the Action Planning Template to write down short, medium, and long-term goals identified during the maturity model and workbook reviews.
Work with your team and others inside and outside of your organization to spell out timelines, resources, and responsibilities for meeting goals.
Use the template to track progress, challenges, and updates to goals so that the work can be sustained over time.
Resource Guides and Partners
Familiarize your team with the resource guides before you start the self-study process.
Consult the resource guides and glossary whenever you run across an unfamiliar concept, want to know more about a topic, or need concrete examples of DEIA challenges and successes.
Partner with people in your community and in other organizations who can advise, mentor, or assist you in learning more and in achieving your goals (see suggestions in "Building Your team" below).
return to top
---
Building Your Team

Your organization's self-study team should represent different areas of expertise, different levels of authority, and different levels of seniority.
Staff and volunteers with lived experience of disability or being part of historically marginalized groups are valuable members of self-study teams, but it is critical that all members of the team bear the weight of DEIA work.
Now is also the time to start looking outside of your organization for community partners and potential mentors. If you aren't currently partnering with others, here are some initial suggestions:

Look or ask around about who is doing DEIA work in your community. Do some homework before you start asking for help.

What are other museums and historical associations doing?
Is your local, state, or regional museum association offering training?
Is there a Center for Independent Living (CIL) in your area? Do they offer training?
Is there an organization devoted to strengthening nonprofits?

Attend in-person and virtual presentations to see who is knowledgeable about DEIA and museums in your area.
Make initial contact with organizations and individuals doing this work. How can your organization help them? Explore ways that you can work together.
DEIA at Museums and Nonprofits
There are lots of resources on aspects of DEIA work at museums and nonprofits. We suggest at minimum reviewing the American Alliance of Museums report, Facing Change: Insights from the American Alliance of Museums' Diversity, Equity, Accessibility, and Inclusion Working Group as background.
In advance of their follow-up report, Excellence in DEIA, AAM published these core concepts and key indicators:

Core Concept: DEIA is an ongoing journey without a fixed endpoint.

Key Indicator: Take a holistic approach, integrating DEIA into all aspects of the museum's operations through a process of assessment, reflection, capacity building, iteration, and measurement.
Key Indicator: Publicly commit to the ongoing work of transforming organizational culture and dismantling systems of inequity within individual museums and the communities they serve, the museum sector, and society broadly.

Core Concept: DEIA demands an ongoing commitment of resources.

Key Indicator: Provide financial resources for staffing, capacity building, and internal or external DEIA expertise.

Core Concept: DEIA is the responsibility of the entire organization.

Key Indicator: Adopt equity as a cornerstone of the museum's mission, strategy, values, management, and culture.
Key Indicator: Embed responsibility and accountability for implementing DEIA policies and process into operations, job descriptions, and performance reviews at all levels of the institution, from the board of directors and c-level executives to senior leaders, middle managers, junior staff, and volunteers.

Core Concept: DEIA work must be measured and assessed.

Key Indicator: Define the museum's equity goals as the elimination of identity-based disparities.
Key Indicator: Measure progress by disaggregating data by identity over time.
return to top
---
Sources:
[1] Quoted in "Episode 68: Accessibility." (podcast), Disability Visibility Project.
[2] Modified from Sins Invalid, SKIN, TOOTH, AND BONE The Basis of Movement is Our People: A Disability Justice Primer, Volume 2
[3] Modified from Art Beyond Sight, Museum Access: Inclusive Practices in Museums
[4] Pennsylvania Historical & Museum Commission Diversity, Equity, Inclusion, & Access Policy (Adopted December 5, 2018)
[5] Showing Up for Racial Justice (SURJ), Nuts and bolts of accessibility
[6] Facing Change: Insights from AAM's DEAI Working Group
[7] Quoted in Mid-Atlantic ADA Center, ADA in Focus: Spring-Summer 2020
Content is available under Creative Commons Attribution unless otherwise noted.